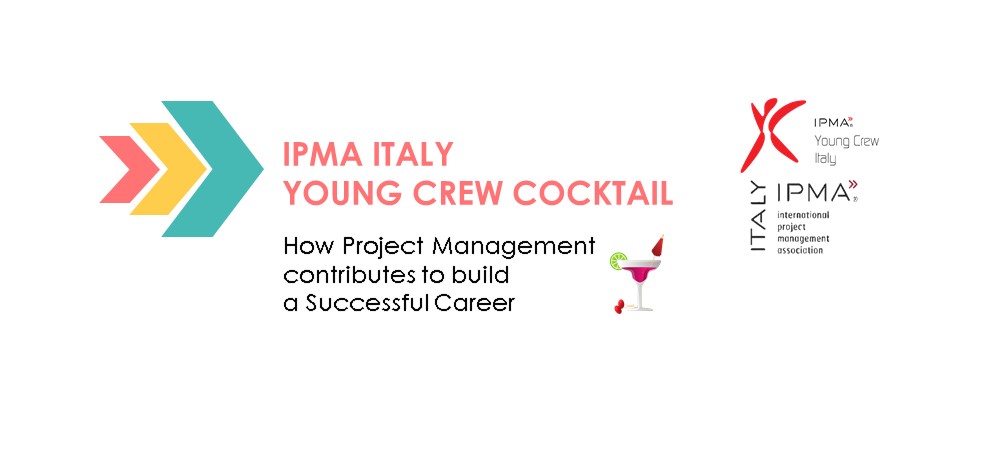 IPMA Young Crew Italy vi aspetta mercoledì 2 ottobre 2019 allo Young Crew Cocktail:
How Project Management contributes to build a Successful Career
Ospite: Guido Bressani, Consultant @ Spencer Stuart
SPENCER STUART is one of the world's leading global executive search and leadership consulting firms.
DOVE E QUANDO
L'evento si terrà Mercoledì 2 ottobre 2019 alle ore 19:30 presso 55 Milano in via Piero della Francesca 55.
ISCRIZIONI
Per partecipare all'evento è richiesta la compilazione del form di iscrizione: Link
L'incontro è aperto a tutti e sarà accompagnato dal consueto aperitivo (consumazione obbligatoria del locale € 12,00).
TEMA SERATA
Insieme a Guido Bressani, Consultant @ Spencer Stuart, siamo pronti a riprendere i nostri incontri per una serata di networking in cui affronteremo tematiche legate al project management e al career building.
Scopriremo come le competenze relazionali, elemento chiave che contraddistingue il modello di competenze in project management di IPMA, siano fondamentali anche nella formazione del proprio percorso professionale.
Quali competenze dobbiamo saper meglio utilizzare per valorizzare la nostra crescita professionale?
Cosa fare e cosa evitare per imparare a gestire le sfide ed individuare le opportunità nell'ambito della nostra carriera?
Insieme al nostro ospite risponderemo a queste ed altre domande in una serata di networking e condivisione delle nostre esperienze.