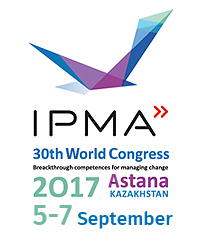 Il 30th World Congress di IPMA si è tenuto quest'anno in Kazakhstan ad Astana presso il Nazarbayev University Campus
dal 5 al 7 settembre 2017.
Il tema del World Congress BREAKTHROUGH COMPETENCES FOR MANAGING CHANGE è stato articolato durante le tre giornate, che hanno visto la presenza di oltre 120 speaker tra ricercatori, professori e professionisti provenienti da diversi settori.
COMUNICATO STAMPA - Council of Delegates /AstanaSeptember 10, 2017
CALL FOR PAPERS
Tutte le informazioni per la presentazione dei papers sono indicate nell'allegato PDF
Scadenze:
20-Feb-2017 – Deadline for the submission of proposals for special sessions (academic & professional), workshops, seminars, panel discussions, position papers, special issues of journals and other related activities.
30-May-2017 – Deadline for the submission of peer-reviewed abstracts (to be included in ISBN-ed proceedings, planned to be indexed in major indices).
30-Jun-2017 – Deadline for full paper submission (of peer-reviewed papers).
15-Jul-2017 – Deadline for professional presentations.
31-Jul-2017 – Deadline for paper ready-paper.
Maggiori informazioni sull'IPMA 30th World Congress sono disponibili sul sito dedicato: